Living Museum
Meet Brian Smith. Owner of Rufford Printing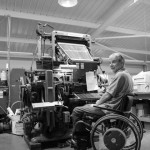 Behind him is: Harris Intertype Line Casting Machine, used to make "type" for printing. Made by Harris Intertype Limited, Slough, Bucks and used by The Guardian Newspaper. This typesetting machine was not only the last one built by Harris Intertype in 1976; it was the last of its kind ever made. It was installed at the Intertype Line headquarters of The Guardian newspapers on Farringdon Road in June 1976 and used until The Guardian transferred to different machinery in May 1987.
Today, Brian gave me and my wife a personal demonstration of "Linotype" Printing. Brian has run his printing business for 40 years, his premises could be a working museum.
He is paralysed from the neck down. He is probably the most interesting and inspirational guy I have ever met. I would recommend a visit!
David Faulkner
Rufford Printing Company was established in 1970, by Brian Smith using an Adana 8×5 handpress on his mothers kitchen table. Typsetting all day, using metal monotype. Gradually progressing to a Heidelberg Platen. After the introduction of offset litho presses in the early 80's, we disposed of all our type cases and type for scrap and the Platens were only used for numbering, scoring and perforating. However, over the past few years we have collected over 120 cases of type, a hand press and a 100 year old Arab treadle press to compliment our now ancient Heidelberg Platens. We also have a Intertype Machine with over 60 magazines. We have a capability to cast from 10pt to 48pt slugs.
[jwplayer mediaid="530″]
For more information on our printing services please telephone 01704 821285