Testimonials
A special project needs a special person to deliver it. Brian Smith at Rufford Printing is one.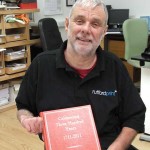 2011 was the 300th Anniversary of the founding of the first overseas British Naval Hospital on the Isla del Rey in Mahon harbour. It was a year of celebrations and proud reflections by British and Spanish residents on Menorca. This was especially so for a team of volunteers who had worked for years to restore many of the buildings and gardens as a lasting memorial of its proud history. At times it seemed a never ending task but the work continued with good nature, skills and fun and then a large donationfrom one benefactor allowed the Anglican Chapel to be restored. It was time to show case the results.
In May of 2011, against the bright blue sky and sea, The Red Arrows Team flew down the harbour and over the Isla del Rey. Britain marked its heritage with pride. In June the Anglican Chapel was reopened with true British ceremonial splendour, Pikemen and Musketeers walking side by side with political and naval dignitaries. The volunteers took part knowing the work was not finished but that the progress was immense.
I could not let these days of celebration pass unmarked in the history of the Island and so set about producing what was intended to be a 'Little Book' to record events. However the collection of articles grew as volunteers and all involved in the work there wanted to include their feelings about the contributions they had made. The reclamation of the medicinal herb gardens, the tower being re built, the Chapels and the wards along with the special events were all recorded. The book was now a big one but how did I get it printed?
Everyone I spoke to said I could do it on the internet. I just didn't have a clue how to go about it or what I really wanted it to end up like. I needed a 'real' person to help me. Whenever I said that, I was always told it would cost a fortune, and time was ticking on. A deadline had suddenly been set. The Red Arrows were to return in September 2012 and my book was to be presented at a ceremony with them on the Isla del Rey.
For some reason I was visiting Cedar Farm and parked next to the workshop of Rufford Printing. I walked and met Brian Smith with his infectious smile and the rest is history. The book "Celebrating 300 Years " was delivered through Brian's professionalism, patience and above all empathy for what I wanted it to look like. Nothing was too much trouble, well not that he admitted to me! I emailed him pages as they were finished, we set up the order, fixed titles and corrected hundreds of errors even after proof reading. We did this both by email and my calling in. I could not have done it on the internet and what was more I could afford to do what I wanted by talking it through with a professional.
I ended up with this beautiful red leather bound book with gold lettering which was finished by Peter Doyle in Leyland. Added to that with the services of Rufford Print I had five more plain hard copies done and currently about 200 soft copies. I just could not have done this without Brian and his helpful staff. The Book was presented in Spain on time heralded by a Red Arrows flypast!
I now use Brian for other items I need printing, no job is too big or small from what I can see. I would not hesitate to recommend that you call in to discuss work with him. When you do that you might even be tempted to try your hand at learning to use an old printing press or if you are a paper lover like me, to pick up one of his 'Little Bags of Paper' to enhance your desk or kitchen table.
Dr Ann Hanson
Eccleston
September 2013
For more information on our printing services please telephone 01704 821285